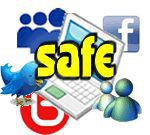 We take online safety (previously referred to as e-safety) very seriously at Branston Community Academy.
Thinkuknow is an education initiative by the Child Exploitation and Online Protection (CEOP) Centre – the UK's national law enforcement agency that focuses on tackling the sexual abuse of children. In Branston Community Academy there is a rolling program throughout the year to support this initiative:
The Computing department at Branston delivers online-safety lessons throughout all Key Stages.
Parents/carers that attend our Y7 Welfare Evening and our Y11 Information Evening are given presentations containing online safety advice and the presentations are made available to those than cannot attend.
All staff receive online safety training and are familiar with the Branston Community Academy Safeguarding policy which contains the online safety policy.
All staff and students sign and agree to abide by an ICT Acceptable use Policy.
Please contact one of the following members of BCA staff for advice regarding e-safety using our Contact Us page.
Mr A. Wright (Vice-Principal and Safeguarding Officer)
Mr D. Holford (Co-ordinator of new technologies and Online Safety Consultant)
Mr G. McIntosh (Systems administrator and Online Safety Consultant)